Shift Management
Efficient shift management is key to seamless restaurant operations, balancing staff needs with service demands for superior customer experiences.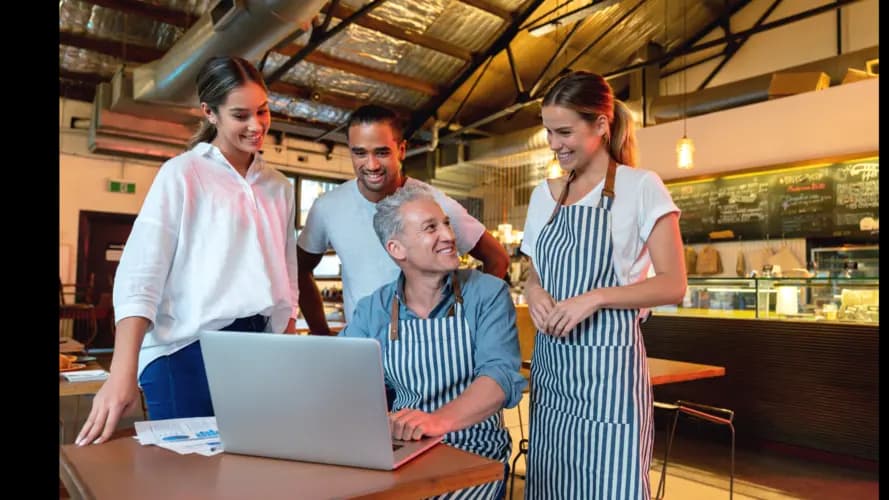 Our Partners:
Works with other 30+

top POS systems.
Shift Management: Streamlining Operations for Ultimate Efficiency
An efficient shift management system is critical to maintaining a seamless workflow in any restaurant.
In the fast-paced world of restaurant management, effective management is crucial for smooth day-to-day operations. However, staff and management face various challenges in maintaining accurate shift schedules, ranging from managing absence trends and late arrivals to equitable distribution of work hours. Additionally, handling overlapping shifts and avoiding under-staffing during the busiest times and over-staffing during slow periods can be difficult.
The lack of a shift management system — or using a poor one — can lead to operational chaos, wasted resources, and a marked drop in customer satisfaction.
CheddrSuite offers a powerful software solution to overcome challenges and enhance your restaurant's efficiency. With our advanced management platform, shift managers can streamline processes, boost productivity, and improve the overall experience for employees and customers. Contact us today to solve your shift management challenges and experience better, more efficient day-to-day operations!
Shift Management: The Cornerstone of Restaurant Operational Success
An effective shift management tool is the backbone of a thriving restaurant business, contributing significantly towards operational success. It is a critical component that directly impacts employee morale and satisfaction. Efficient scheduling respects the personal time and preferences of the staff, reducing stress and fostering positive workplace morale.
Moreover, when employees are confident of their shift hours and schedules, they are more focused, motivated, and productive, which in turn enhances the quality of service they provide to customers.
Exceptional customer service and experience rely on effective shift management. Customers expect prompt service and a seamless dining experience. Optimal staffing is key to avoiding both long wait times and unnecessary costs. As such, meticulous shift management is crucial to ensure that the right number of staff is present at the right times, meeting customer needs efficiently, and maintaining the restaurant's reputation for excellent service.
Focusing on achieving optimal shift management in restaurants is paramount to the overall success of the establishment. It's not merely a matter of staffing; it's about strategically deploying resources to ensure smooth operations, and therefore, customer satisfaction.
Optimal shift management can help reduce operation costs, improve employee morale, and enhance the overall dining experience for customers. This focus can help create a delicate balance that can drive the restaurant's profitability and reputation, making it a sought-after dining destination. The value of concentrating on optimizing shift management cannot be overstated; it's an investment that pays off in many ways.
Shift Scheduling: Dynamic Rostering for Happy Employees
An effective calendar of employee shift schedules is pivotal to maintaining a harmonious and productive work environment in the restaurant industry. It's not just about filling in time periods; it's about considering the various needs, preferences, and capabilities of each staff member and aligning them with the restaurant's operational requirements whether it's a last-minute scheduling change or a vacation request weeks in advance. Allowing for flexible and adaptable scheduling is key in this regard.
This approach enables restaurants to accommodate last-minute replacements and shift coverage — whether they're due to unplanned absences or sudden surges in customer volume — ensuring that service quality remains unaffected no matter if it's the morning or night shift. Moreover, a flexible strategy afforded by employee scheduling software demonstrates respect for employees' time and personal lives, boosting morale and retention.
CheddrSuite's shift management platform is a game-changer for restaurants seeking to modernize their scheduling processes. This software tool not only automates scheduling tasks with built-in attendance templates, but it also enables dynamic rostering, allowing for rapid adjustments and shift trades as needed.
The flexibility we offer empowers employees, giving them the ability to manage their schedules proactively, whether taking on extra shifts or responding to personal commitments, without compromising their work. It also reduces the likelihood of scheduling conflicts and errors, leading to happier, more satisfied employees.
In a fast-paced, customer-centric industry like restaurant and dining, the ability to adapt swiftly and efficiently to changes can significantly enhance the overall service experience. With CheddrSuite, restaurants can achieve this adaptability, ensuring optimal shift management that benefits both their staff and their customers.
Staff Communication: Giving Power to Employees Themselves
Effective shift management requires clear and prompt communication with staff about their schedules, changes, and any important announcements. A shift planning tool allows business owners and managers to send automated notifications and messages, ensuring everyone is on the same page.
CheddrSuite's shift management software further initiates a culture of proactive communication among employees. With features allowing staff to send messages, last minute time-off requests, and communicate about shift changes directly with each other, the responsibility of managing shifts is shared among the team.
This facilitates a more streamlined and efficient process, where staff can coordinate and negotiate shift trades or vacation time coverage amongst themselves before seeking approval from their supervisors.
Additionally, CheddrSuite's shift management software facilitates effective communication about responsibilities and tasks, ensuring each team member is well-aware of their role in all types of shifts, regardless of any changes to their schedule — promoting accountability and enhancing overall operational efficiency.
The result is a smoother, more seamless shift management process that caters to the operational demands of the restaurant and the individual needs of the staff.
Addressing Pain Points and Challenges in Restaurant Shift Management
While the importance of restaurant shift management is clear, it is not without its challenges. The restaurant industry is notorious for its fast-paced and unpredictable nature, which can make managing shifts a daunting task without exceptional communication skills.
From last-minute absences to scheduling conflicts, there are numerous pain points that can impact service quality, employee satisfaction, and ultimately, the business' bottom line.
Let's explore a few of the most common challenges that restaurant managers face with broken shift planning procedures and how CheddrSuite's platform and services can offer effective solutions.
Employee Pain Points
Here are three common problems employees may face due to poor shift management.
Scheduling Conflicts and Variable Schedules
Employees often struggle with unpredictable schedules that fluctuate week by week. This unpredictability can make it difficult for them to plan their personal lives around work commitments.
Shift changes and trades also drastically disrupt a team's roster. Without the right technology in place to help facilitate such transitions, employees may find themselves caught in scheduling conflicts or with limited options for trading shifts.
Lack of Communication
Oftentimes, staff members have little visibility into their own schedules — and they know much less about their coworkers' availability. This lack of communication can lead to confusion about what needs to be done or what is expected of them. It also puts pressure among employees, resulting in decreased productivity and morale.
Moreover, short notice for shift changes can also disrupt employees' personal plans and create undue stress.
Low Satisfaction
All of these can culminate in low morale and job satisfaction. Additionally, long hours, unpredictable schedules, and an inability to make shift trades can all contribute to employee burnout and low satisfaction with the job. In turn, these can result in poor retention and high employee turnover.
Manager Pain Points
Managers or employers in general also suffer from poor shift management and lack of an efficient system. Below are three common pain points and challenges faced by restaurant managers and business owners.
Dynamic Demand
Restaurant traffic can fluctuate widely based on factors like time of day, day of the week, and seasonal variations, making it challenging to predict staffing needs and assigning shifts accurately. Without dynamic scheduling or staff management, managers will run into more problems during their shift.
Scheduling Conflicts
One of the most shared challenges for managers is scheduling conflicts. Balancing employee hours of availability with the restaurant's needs can be complex and requires significant time and effort. Between shift replacements, trades, and unexpected absences or late clock-ins, managers face issues with staff productivity and maintaining operational efficiency.
Compliance and Labor Laws
Ensuring compliance with labor laws and regulations — such as overtime pay and breaks — is crucial to avoid legal issues and financial penalties. Without a system that dutifully tracks schedule changes and trades, managers can be at risk of incurring certain labor law violations with shift workers.
CheddrSuite's Shift Management Solution for Optimal Operations
CheddrSuite's comprehensive restaurant management software helps to simplify and streamline shift management for restaurants. Our efficient platform is designed to provide real-time visibility into the management of employee shifts.
Real-Time Communication
CheddrSuite's secure and customizable shift planning dashboard enables managers to communicate with employees quickly and effectively regarding shift changes. This feature allows for easier task delegation, better communication of shift details, and more transparency in general. It also helps to ensure that all staff members are on the same page during their shifts.
Detailed Shift Logs and Notes
The shift management system's detailed log and shift notes feature allows managers to capture real-time information about each employee's shifts. Managers can track time of arrival and departure, as well as absences or late clock-ins for everyone. CheddrSuite's system offers a shift management plan with an intuitive interface for managers to efficiently review and approve requests — such as upcoming shift trades, time-off request, and overtime — all in real-time.
Streamlined Scheduling
Our software makes scheduling smoother and simpler. It is designed to help managers create schedules quickly and to allow employees to take initiative in shift trades. With our shift logging and reporting tools, the platform can predict future shifts based on past trends to better improve restaurant operations.
Employee App
Our shift management software functions as the scheduling app for employees. It features the individual's schedule and the team's schedule with the ability to make trade requests, time off requests, individual and group messaging, and the ability to view calendar events and tasks. This functionality addresses employee pain points by putting the power in their hands to take some responsibility for shift coordination while keeping up with the needs of the team.
Experience the CheddrSuite Difference Today
Shift management is a cornerstone for successful restaurant operations, ensuring smooth operations and improved service quality, especially during peak hours. An effective shift management software platform creates a harmonious work environment, reduces employee conflicts, and increases overall productivity. With this system in place, restaurants can effectively address pain points while focusing more on providing exceptional dining experiences, ultimately leading to customer satisfaction and business growth.
CheddrSuite is the perfect tool to elevate your business processes, guaranteeing smoother and more seamless operations, delivering exceptional dining experiences, and cultivating a dynamic and united team driven by outstanding communication.
Contact us today to learn more about our services and request a free demo.
Sign Up Now
Begin your experience with absolutely no obligations, as we do not require any contractual agreements or credit card information to get started!
Frequently asked questions
Can't find the answer you're looking for? Reach out to our customer support team.
What is CheddrSuite?

CheddrSuite is a comprehensive web app designed to streamline and optimize your business operations. Our platform offers a wide range of features, including task management, scheduling, communication, and reporting tools, to help you save time and improve productivity.

How do I get started with CheddrSuite?

To get started, simply visit cheddrsuite.com and sign up for an account. Once you've registered, you can access our various features and tools to start optimizing your business operations.

Is CheddrSuite available on mobile devices?

Yes, CheddrSuite is accessible on mobile devices, including smartphones and tablets. Our responsive design ensures that you can access and use our platform from any device with an internet connection. Additionally, our app is available for download on both the App Store and Google Play Store.

How much does CheddrSuite cost?

CheddrSuite offers a variety of pricing plans to cater to different business needs. For detailed information on our pricing and the features included in each plan, please visit our pricing page at cheddrsuite.com/pricing

How do I add team members to CheddrSuite?

To add team members to your CheddrSuite account, simply navigate to the Staff section of the app and click on Add Staff You can then enter their email address and assign them a role within your organization.

How can I customize the features in CheddrSuite to fit my business needs?

CheddrSuite offers a range of customizable features, allowing you to tailor the platform to suit your specific business requirements. To customize your settings, navigate to the Settings section of the app and adjust your preferences accordingly.

Can I integrate CheddrSuite with other tools and services?

Yes, CheddrSuite can be integrated with various third-party tools and services. For more information on the integrations we offer and how to set them up, please visit our integrations page at cheddrsuite.com/integrations

Is my data safe and secure with CheddrSuite?

At CheddrSuite, we take data security very seriously. We employ robust security measures, including encryption and regular backups, to protect your data and ensure its confidentiality.

How do I contact CheddrSuite's support team?

If you need assistance or have any questions about CheddrSuite, our support team is here to help. You can reach us via email at support@cheddrsuite.com or through our in-app chat feature.