Restaurant Management Software
CheddrSuite is restaurant software designed to simplify the management of your food and beverage business. It replaces paper clutter, eliminates the need for multiple apps, and can be accessed from anywhere at anytime.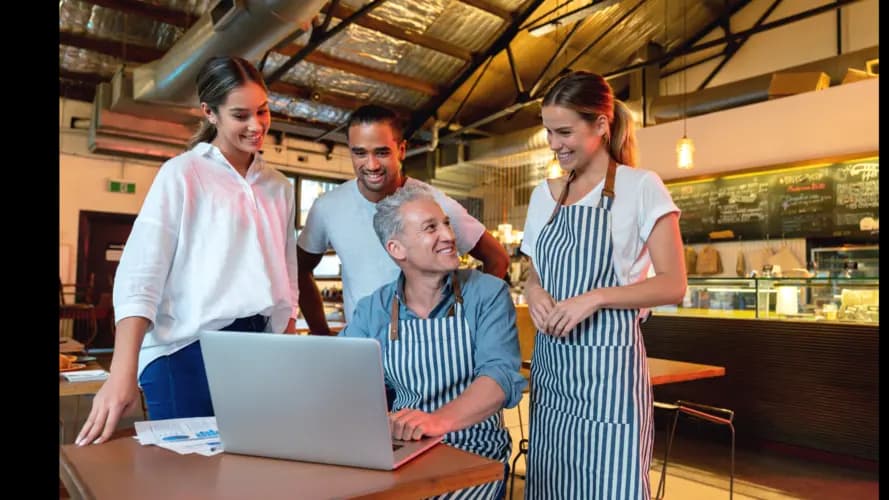 Our Partners:
Works with other 30+

top POS systems.
One App, Any Device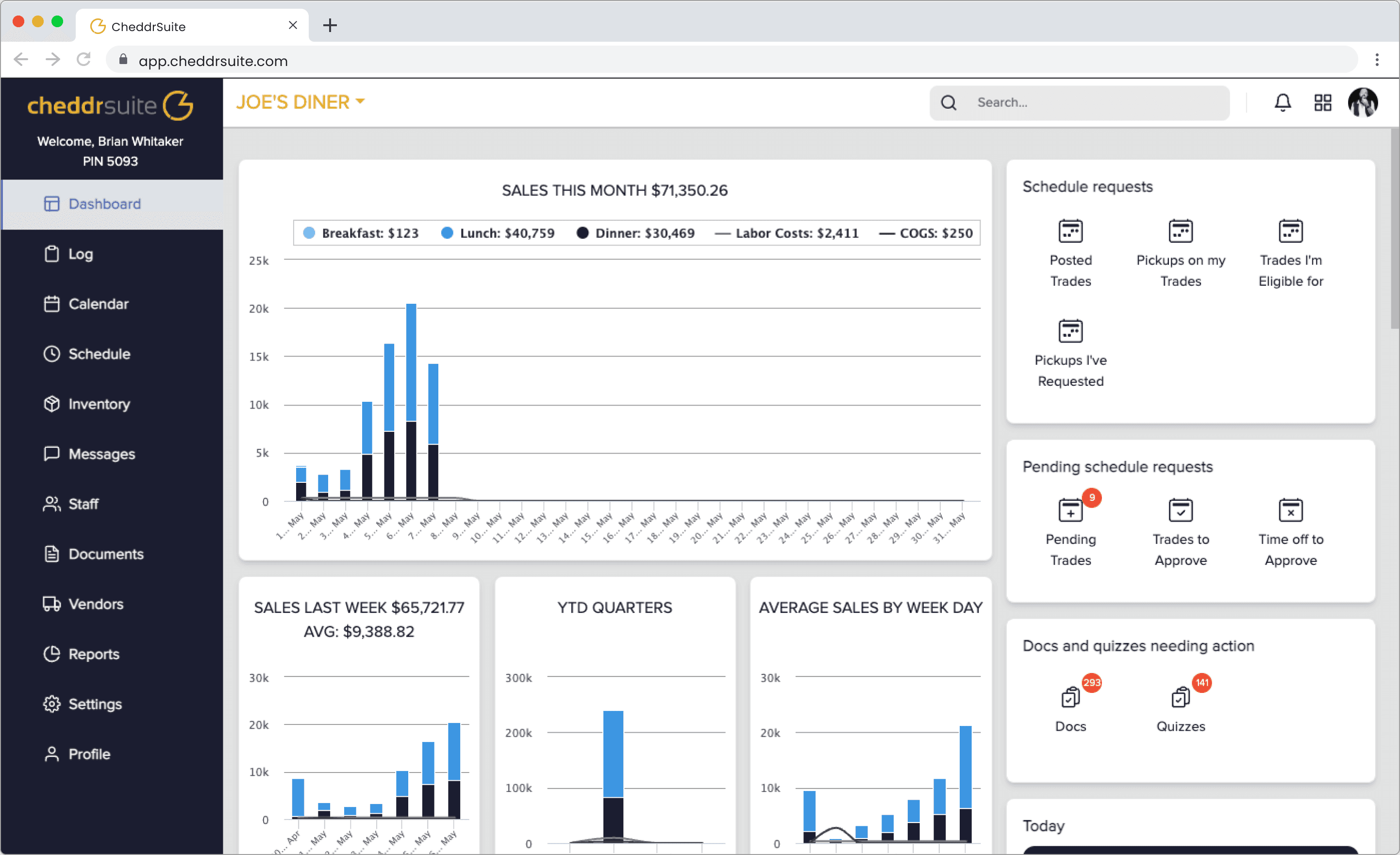 Employee Scheduling.

Efficient and organized employee scheduling helps businesses manage their workforce and improve productivity.

Email Notifications.

Stay updated on employee schedules with convenient email notifications.

Text Notifications.

Get notified instantly with convenient text messages for employee schedules.

Shift Log.

A record of employee work hours, tasks completed, and any incidents that occurred.

Vendors.

Manage and track vendor relationships and transactions for efficient business operations.

Advanced Reporting.

Analyzing data to gain insights and make informed business decisions.
Everything you need to run your restaurant from any device, in one app.
Maintain stock minimums with automated PO generation.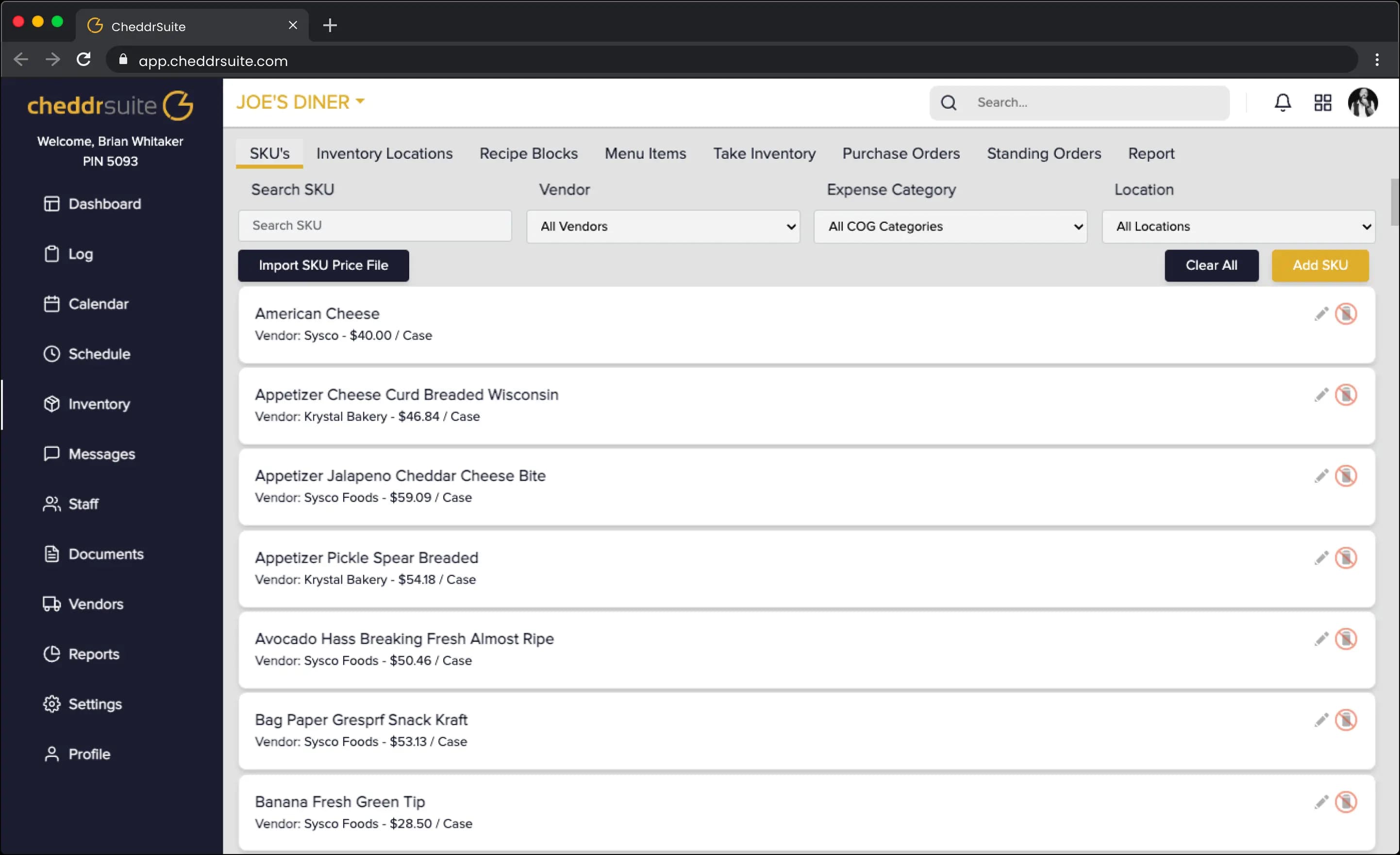 Choose a Plan That Fits Your Needs
No contracts or startup fees! Complimentary training and ongoing support, now with a 14-day money-back guarantee!

Basic
$69/mo$55/mo(billed annually)
A powerful employee scheduling tool at a low price.
Employee Scheduling

Timeclock

Messaging

Staff Module

Shift Trade Board
Get Started

Plus
Most Popular
$169/mo$135/mo(billed annually)
All the advanced restaurant management tools you need!
Employee Scheduling

Timeclock

Messaging

Staff Module

Shift Trade Board

Email Notifications

Text Notifications 1000/mo

Shift Log

Inventory Management

Documents & HR

Vendors

Advanced Reporting

Digital Checklists

Calendar w/ Notifications
Get Started

Pro
$189/mo$151/mo(billed annually)
All the "Plus" features, along with POS integration. The end-to-end restaurant management solution
Employee Scheduling

Timeclock

Messaging

Staff Module

Shift Trade Board

Email Notifications

Text Notifications Unlimited

Shift Log

Inventory Management

Documents & HR

Vendors

Advanced Reporting

Digital Checklists

Calendar w/ Notifications
Get Started
Sign Up Now
Begin your experience with absolutely no obligations, as we do not require any contractual agreements or credit card information to get started!
Look What People Are Saying
Our software is so simple that people can't help but fall in love with it. Simplicity is easy when you just skip tons of mission-critical features.
The challenge in managing financials in the restaurant business to me has always been: do your best and let's hope the numbers work out at the end of the month. Now we finally have the tool for owner operators to be forward thinking and forecasting, looking through the windshield and not the rearview mirror! CheddrSuite = a better chance at success and profitability.

Scott Buckland

Sysco New Business Development

Hottest restaurant management tool

RestaurantMagazine.com

Editor

Not only do we sell food and supplies, but we also help our operators leverage and embrace technology. Your platform is a great solution for our operators and as Sysco Sales Consultants, we work to be considered a "trusted advisor" to our customers. That means that our Sales Consultants need to not only recognize the benefits of tech-platforms like CheddrSuite but also, be confident in gently pushing tech-phobic operators out of their comfort zones.

Chris Miller

Sysco Corporation Eastern Shores Region Manager of Learning & Development

Having worked in the restaurant industry a little over 40 years, with experience in both franchise and independent ownership, I am currently consulting for a Street Taco concept with 5 locations soon to be 8 by the end of the year. I knew what I needed in order to provide the path for a hands-on owner who would soon be taking on more than he could possibly continue to handle! And still have a normal family life. When first introduced to CheddrSuite, I was initially a bit skeptical thinking to myself "what's the catch" it seems like CheddrSuite has an answer to almost every concern I had.

Dennis Branch

PR Solutions Group & Street Tacos Don Joaquin
Frequently asked questions
Can't find the answer you're looking for? Reach out to our customer support team.
What is CheddrSuite?

CheddrSuite is a comprehensive web app designed to streamline and optimize your business operations. Our platform offers a wide range of features, including task management, scheduling, communication, and reporting tools, to help you save time and improve productivity.

How do I get started with CheddrSuite?

To get started, simply visit cheddrsuite.com and sign up for an account. Once you've registered, you can access our various features and tools to start optimizing your business operations.

Is CheddrSuite available on mobile devices?

Yes, CheddrSuite is accessible on mobile devices, including smartphones and tablets. Our responsive design ensures that you can access and use our platform from any device with an internet connection. Additionally, our app is available for download on both the App Store and Google Play Store.

How much does CheddrSuite cost?

CheddrSuite offers a variety of pricing plans to cater to different business needs. For detailed information on our pricing and the features included in each plan, please visit our pricing page at cheddrsuite.com/pricing

How do I add team members to CheddrSuite?

To add team members to your CheddrSuite account, simply navigate to the Staff section of the app and click on Add Staff You can then enter their email address and assign them a role within your organization.

How can I customize the features in CheddrSuite to fit my business needs?

CheddrSuite offers a range of customizable features, allowing you to tailor the platform to suit your specific business requirements. To customize your settings, navigate to the Settings section of the app and adjust your preferences accordingly.

Can I integrate CheddrSuite with other tools and services?

Yes, CheddrSuite can be integrated with various third-party tools and services. For more information on the integrations we offer and how to set them up, please visit our integrations page at cheddrsuite.com/integrations

Is my data safe and secure with CheddrSuite?

At CheddrSuite, we take data security very seriously. We employ robust security measures, including encryption and regular backups, to protect your data and ensure its confidentiality.

How do I contact CheddrSuite's support team?

If you need assistance or have any questions about CheddrSuite, our support team is here to help. You can reach us via email at support@cheddrsuite.com or through our in-app chat feature.