Restaurant Management Software Solution with CheddrSuite
Restaurant Management Software with CheddrSuite. Designed to help people run their restaurant through our restaurant management solution.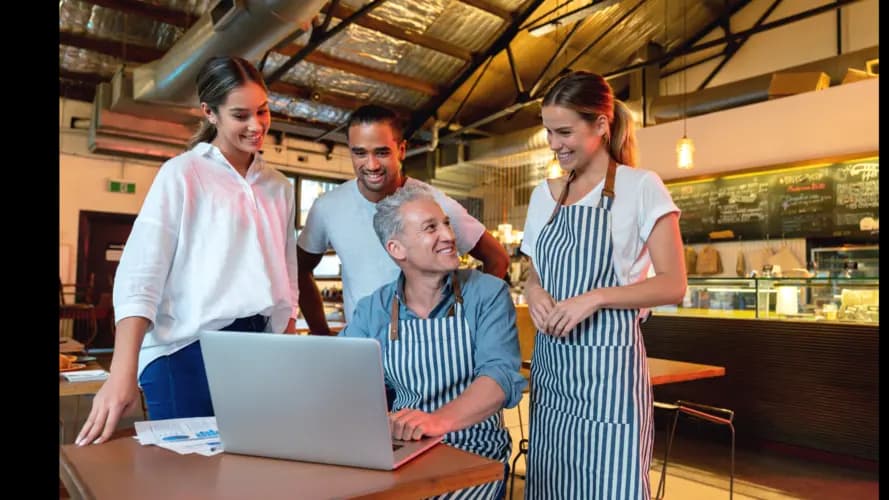 Our Partners:
Works with other 30+

top POS systems.
Streamline Your Operations with Advanced Restaurant Management Software
Running a restaurant can be a difficult and stressful undertaking. With tight profit margins, increasing competition, and the ever-changing landscape of customer expectations, it's more important than ever to streamline your operations wherever possible to maximize efficiency and profitability.
That's where CheddrSuite comes in — an advanced restaurant management software solution designed to help you stay ahead of the competition with simplified processes and improved operational performance. From intuitive scheduling and payroll tools to comprehensive inventory and staff management systems, CheddrSuite helps you maximize every aspect of your business so that you can focus on what matters most — providing customers with a wonderful experience.
Revolutionize Your Restaurant Management System with CheddrSuite 
Have you ever felt like the day-to-day operations of your restaurant are getting out of control? With so many moving parts, keeping track of inventory levels, employee scheduling, and customer orders can take time and effort.
The most frequent problem in restaurant management is the need for more organization. You must quickly and easily access all the necessary information without hunting through multiple sources.
It's time to take control of your restaurant operations with CheddrSuite. Our advanced restaurant management tool provides an intuitive and streamlined dashboard that allows you to manage all aspects of your restaurant in one place.
You must maximize efficiency and automate your restaurant operations. CheddrSuite helps you do just that with its automated features. Our software streamlines inventory, employee scheduling, and staff management to keep your business running smoothly.
CheddrSuite also includes powerful analytics capabilities that track performance data in real time. You can use this data to gain insights into behavior, optimize staffing levels, and better understand trends within your business. 
Finally, our restaurant management software app integrates with your existing systems, such as your point of sale (POS) terminals. This lets you quickly access all the information you need without switching between multiple applications. In CheddrSuite, multiple-unit operators can navigate between locations from one dashboard.
Seamless Implementation: How CheddrSuite Transforms Your Restaurant Management
Our advanced restaurant management software provides an intuitive and streamlined dashboard that helps you maximize efficiency and streamline operations. With our wide range of automated features, robust analytics capabilities, and integrated systems, you can gain greater control of your restaurant and take it to the next level.
Anywhere, Anytime
Our cloud-based restaurant management software delivers an all-in-one solution to help streamline your house operations. Whether you're unique location or a multi-site operation, CheddrSuite will give you the tools and insights needed to maximize efficiency and profits.
You can monitor your restaurant operations from anywhere, anytime, and through any mobile device with an internet connection. Having this level of control ends the need for multiple disparate systems. Plus, you can access real-time insights into your business on demand to make proactive decisions and increase efficiency.
Our Features
These are the key features you can enjoy with our restaurant management software system that will uplift staff and guest experiences and revolutionize the restaurant industry:
Are you still using spreadsheets? Then, it's time to upgrade your system. CheddrSuite makes staff scheduling simple and efficient with its intuitive interface that allows you to quickly create, adjust, and modify schedules in real time. Plus, our automated shift text reminders make sure nothing slips through the cracks.
You can easily copy and paste the last schedule and make adjustments with the click of a button. You can also set up overtime alerts, manage time-off requests, and track work preferences for each employee. Plus, your staff can get text and email shift notifications to keep them informed and on track.
We've made shift trades easier than ever before with our Shift Trade Board. This feature allows you to easily organize and manage requests to trade shifts or shift coverage between your employees. This helps streamline the process and eliminate any miscommunication that could result in costly mistakes or delays.
You can set staff permissions depending on their eligibility to trade shifts, ensuring each individual has the proper access and authority. Plus, with our built-in notification system, you can keep your staff updated on any changes or new requests in real time.
Don't worry — trades still require manager approval, so you don't have to worry about any unexpected changes in your staffing needs. However, with CheddrSuite's Shift Trade Board makes employee management easier because you can easily post available shifts and have employees bid to switch them with each other. This streamlined process saves time and money while ensuring all trades are appropriately approved.
Avoid miscommunication and make sure everyone is on the same page with CheddrSuite's robust staff communication features. Instantly send notifications to individual staff members or assign tasks to entire departments. Our platform makes it easy for you to stay up to date on who's doing what and when, so you can rest assured that your restaurant operations are running smoothly.
Staff can use the online messaging wall to ask questions, share ideas, and collaborate in real time. Managers can also share events and task reminders with their team, so everyone knows about upcoming tasks and deadlines.
Aside from the in-app message board, our notification system can send alerts through text and email. This ensures everyone on the team is in the loop and can stay up to date with your restaurant's needs.
CheddrSuite streamlines restaurant operations by managing employee documents and HR processes and lightening the load on administrative tasks. Our cloud-based system ensures that all essential documents are securely stored, easily accessible, and organized in one place. With our software, you can manage employee tax documents, upload and update menu items, and even create training materials such as quizzes to familiarize staff with best practices.
Our shift log feature lets you create daily checklists for employees, track sales by service time, monitor staff activities, and check invoices. This way, you can easily watch the performance of your restaurant and take corrective action on time.
Let's face it — inventory can be a nightmare for many restaurants. Our restaurant management system makes stock tracking easy, with visibility into your entire supply chain. Aside from helping you monitor your pantry, we can help you create recipe blocks, track SKUs, and make purchases and standing orders to ensure your kitchen is never running low on ingredients.
Along with inventory management tools, we also provide vendor management to track and manage your vendor orders and delivery services. CheddrSuite allows you to easily track vendor information, create purchase orders, and more. This lets you quickly get the supplies you need for your restaurant while staying on budget.
To make remembering each supplier easier, you can add notes and tags to each vendor and set up order templates to quickly place orders each time.
Review your business performance easily through our advanced reporting technology, which offers an in-depth look into your operations. With a few clicks, you can review and analyze sales reports and track data to get an exact picture of how your business is doing. In addition, you'll have access to detailed reports on sales by service time, inventory management, employee performance, and more — all designed to help you make better decisions for your restaurant's future.
Monitor payroll, sales, and cost of goods reports, set up business goals, keep track of profit and loss statements, and create custom report fields to meet the specific needs of your business. With CheddrSuite, you'll have the tools to ensure everything runs smoothly and efficiently.
POS (Point of Sale) Integration
CheddrSuite integrates with industry-leading systems for a seamless experience when importing sales data, inventory, and employee information. This can reduce the amount of manual data entry, increase accuracy, and reduce overall time spent managing operations.
Grow Your Business with CheddrSuite's Restaurant Management Software
Here are four reasons you should invest in a restaurant management software app:
Increased Efficiency and Productivity
CheddrSuite's restaurant management application helps streamline the day-to-day operations of any food service business. With a comprehensive suite of advanced features, we can help increase efficiency and productivity by automating mundane tasks, reducing manual errors, and providing real-time insights into performance. Boosting efficiency in daily operations can save time and money, allowing restaurant staff to focus on delivering quality customer service and enhancing the dining experience.
Improved Customer Satisfaction
Our software also helps to identify areas where processes can be improved, providing a more efficient way of working and better customer satisfaction. More than serving tasty food, you want patrons to have an enjoyable customer experience, and CheddrSuite helps streamline operations to ensure that your guests leave full and happy.
Reduced Costs and Waste
Using CheddrSuite's advanced restaurant management software can help reduce costs and waste. Streamline your operations with automated ordering, inventory tracking, and labor scheduling to save time and money.
Our integrated reporting tools let you quickly show areas where costs are being wasted or inflated so that corrective measures can be taken promptly. The software also allows for plate costing, helping to eliminate food waste from outdated items or dishes customers no longer order.
Enhanced Data Insights and Reporting
Forecasting and managing your restaurant operations can be a complex and time-consuming task. CheddrSuite makes it easy to stay on top of all the data you need by highlighting advanced, actionable insights into every aspect of your business.
With our comprehensive reporting features, you can quickly find trends that inform more thoughtful decision-making with real-time updates. In addition, our restaurant management software allows you to customize reports so that you have an accurate snapshot of performance over any period.
Affordable and Transparent Pricing for Your Restaurant Management Needs
Check out our pricing plans:
Basic
Our basic plan offers the essential features for managing your restaurant operations for $69/month. It includes employee scheduling, a time clock, messaging, staff modules, and the shift trade board.
Plus
The Plus plan is considered an excellent package for restaurant management software. It offers advanced tools to streamline your operations and help to take your restaurant business to the next level for just $169/month.
It includes email and text notifications, shift logs, inventory management, document and vendor management, advanced reporting, and digital checklists on top of the features from the basic plan.
Pro
The Pro plan is the most comprehensive, with all the Plus plan features and more. With CheddrSuite Pro, you get unlimited text notifications, email templates, and POS integration at $189/month. In addition, it provides end-to-end management of your restaurant operations, from inventory tracking to employee scheduling.
Transform Your Restaurant Management Today with CheddrSuite 
Advanced restaurant management software, like CheddrSuite's centralized platform, can make a dramatic difference in streamlining operations and taking your restaurant to the next level. With features that help you manage inventory and pricing, monitor customer feedback, automate tasks and more, this comprehensive tool makes running a successful and smooth operation more manageable than ever.
Whether you're looking to increase efficiency or take better control of your business — CheddrSuite can help get the job done. Invest in the power of advanced restaurant management, and you'll see results immediately.
Book a demo and see how CheddrSuite can take your restaurant to the top of the food chain.
Sign Up Now
Begin your experience with absolutely no obligations, as we do not require any contractual agreements or credit card information to get started!
Frequently asked questions
Can't find the answer you're looking for? Reach out to our customer support team.
What are the benefits of using restaurant inventory software?

Using restaurant inventory software offers several benefits to the foodservice industry, including:

Streamlined inventory management: CheddrSuite automates inventory-related tasks, reducing the time and effort required to manage stock levels, track ingredients, and place orders.
Cost control: By accurately tracking inventory usage, restaurant managers and business owners can identify areas of waste, optimize ingredient ordering, and reduce overall food costs.
Real-time insights: CheddrSuite provides real-time data on ingredient availability, usage patterns, and depletion rates, enabling managers to make informed decisions and avoid stock outs or overstocking.
Recipe management: CheddrSuite offers recipe management features, like a budgeting tool, that help track ingredient quantities used in various dishes, calculate recipe costs, and analyze profitability.

Can restaurant inventory software help with tracking ingredient costs and profitability?

Yes, Restaurant Inventory Management Software includes features to track ingredient costs and calculate profitability. By capturing ingredient purchase prices and quantities used in recipes, CheddrSuite can provide accurate cost analysis for individual dishes or the entire menu. This information helps restaurant owners make informed pricing decisions and identify the most profitable items on their menu.

Can restaurant inventory software be accessed remotely?

Restaurant Inventory Management Software offers cloud-based access, allowing users to access the software and relevant data remotely from different devices such as computers, tablets, or smartphones. This feature enables restaurant owners and managers to monitor inventory and make informed, data-driven decisions even when they are not physically present at the restaurant.

Is it possible to generate purchase orders using restaurant inventory software?

Yes, Restaurant Inventory Management Software allows users to generate purchase orders based on current stock levels and ingredient requirements. CheddrSuite can analyze inventory data and automatically generate purchase orders for suppliers, streamlining the ordering process and reducing the risk of stockouts.

How does restaurant inventory software work?

Restaurant Inventory Management Software works by connecting with a database of SKUs that contains information about ingredients, recipes, suppliers, and stock levels. CheddrSuite allows users to input data regarding ingredient purchases, track inventory usage, and generate reports on stock levels and ingredient costs.